Yes, it may seem boring but warming up is so important on many levels. First of all, a guitar warm-up is not practicing or trying our best shot. The purpose of warming up our fingers is to gently prepare us for the actual guitar playing.
Whether it is a practice session, learning a new song, playing live, or having band practice. It's just no fun with crampy and stiff hands. But fear not! Here are my guitar warming-up exercises that will smoothen up fingers and help speeding over the fretboard with ease.
I saw Ola use this pattern to warm up and if it works for frostbitten Swedish hands - it'll sure work for us too! It is a simple pattern that repeats over all strings up and down again. This should be in every guitarist's warm-up routine!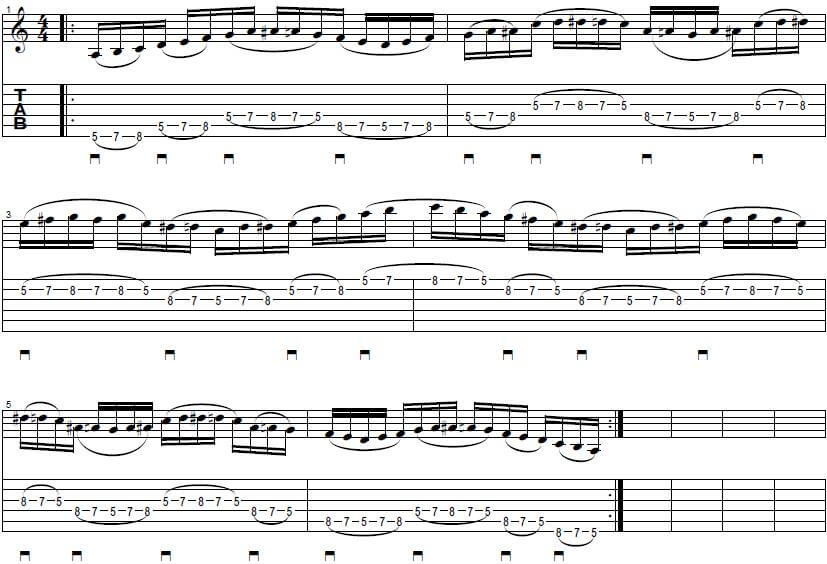 This lick is played a few times before changing the fingering. We start with 5-7-8, go on to 5-6-8, and end with 5-7-9 for a little extra stretch. Let's make sure we shake out our hands from time to time and between the finger changes. 
After I played a few notes and riffs this is always my first stop. The stretch gets the blood flowing and we can feel our fingers waking up! It may seem a bit tedious at first but after a few days those stretches will feel normal and we can instantly reap the benefits!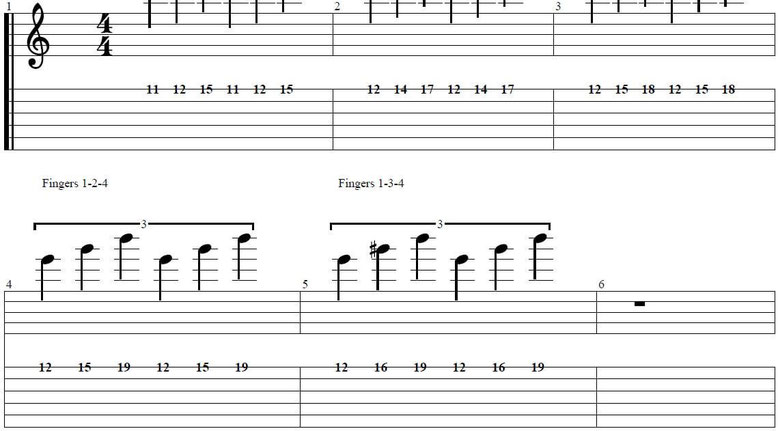 Start every lick very slow and increase the speed with an accent on the one which will always be a downstroke. For a good effect, we need to focus on the synchronization of our hands. Playing evenly will challenge the weakest link and will therefore strengthen it and make sure we are properly warmed up. 
At last, we will be tackling the right hand exclusively. This one is a variation of different rhythm techniques that work as a great guitar warm-up exercise. This will help to fire up and gain control over the picking hand. As far as I know is this the way Dimebag Darrell always warmed up his picking hand!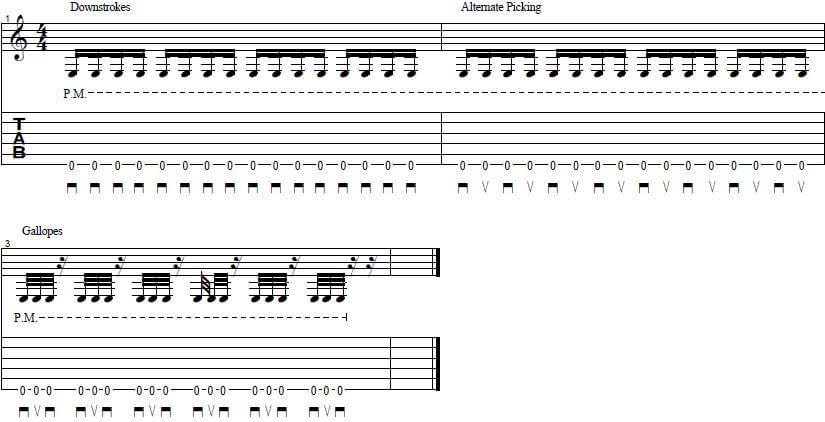 We vary between downstrokes, alternate picking, and gallops. The riffing is about fun and making up our rhythmic ideas. The challenge is not to stop riffing unless we feel discomfort. If there is any discomfort, just stop and shake out your hands before continuing riffing.
A proper guitar warm-up is our foundation for a productive guitar session.
We get the blood in our hands going and make sure all muscles are ready for action. Guitar warm-ups reduce the risks of injuries and most importantly avoid frustration. Yes, frustration can be the result of cramping hands which diminishes our playing. Knowing we could do better is not the mindset we want.
Besides that, the guitar warm-up is ideal to focus and eliminate distractions from everyday life so we can concentrate completely on our guitar.
Alright, we know some easy guitar warm-up exercises now but still, some stuff can go wrong. For completing the guitar warm-up routine we should keep the following things in mind:
Play slow and clean. Warm-up unequal practice. We want to prepare ourselves for the shredilicous guitar mayhem.
Play evenly. I noticed that playing evenly at medium tempos starts the engine! When we focus on playing evenly our stronger fingers can't compensate for the weaker ones. And we need to warm up the weakest links the most!
No overly complicated licks! The main purpose is to get our hands going and the simpler the lick the more we can focus on that. Two or three warm-up exercises that we can focus on are better than a dozen ones done half-assed.
Shake out the hands. As soon as we feel some strain just shake our hands a little bit. 
Not warming up for hours. It's important but still just the guitar warm-up. Around 10 - 15 minutes should be fine. Our hands will tell us when they are ready.
Alrighty then! That's my guitar warm-up routine and bits of advice on how and why to warm up our hands. There are a lot of guitar exercises and ways to warm up. Nothing wrong with experimenting to find our routine if other licks work better.
Thank You for Your time and always....